I can only assist with gifts for ladies and bakers...everyone else..good luck! I always rack my brain for my inlaws, my husband, and parents.
But, as I got ready for my annual big Christmas Cookie baking day, I thought of all the gadgets I love and can't imagine baking without....so here we go!
If the baker in your life has a Kitchen Aid mixer, then this attachment is a MUST! I could have a love affair with my beater blade it means that much to me! When I first got my Kitchen Aid mixer from Mr. Allan, I fell in love. But as we all find out, everyone and everything has its little imperfections and downfalls. It always irked me how my Kitchen Aid could never get to the stuff in the center of the bowl. If I made a batter, I'd always have some crumbly dry ingredients at the center of the bowl. However, you don't find them until you start scooping our your batter. I also always hated when I used my paddle or blade attachment, it was a bitch and a half to scrape it and so much batter would stick to it. The beater blade solves both issues. It's the attachment that I primarily use. I got mine at Crate and Barrel for $25.
Every avid baker probably owns a million cookie sheets and cooling racks. But, when it comes to what you line or don't line your cookie sheet with, everyone has a different preference. My mom and sister love parchment paper. Personally, I think it's a waste. I always wonder why the parchment paper comes in such a wide roll since its always way wider than my cookie sheet and it's a big pain in the butt to cut it down. Plus, if you're making different kinds of cookies, you throw it out. Some people like the route of coating the pan with a non stick spray like Pam. Those are also the people who probably have the very beat looking cookie sheets, because I can never get my pans to look nice and clean after.
Me, I'm a silpat girl. I always heard about them but never wanted to invest in one, but once I did, I'm hooked. It's so easy, clean up is a cinch and my cookie sheets stay in nice condition.
You can buy silpats at Bed bath and Beyond..and lots of other places, but at BBB you can use your 20% off coupon and nab them for $15.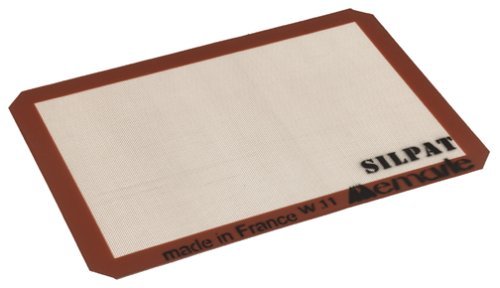 Another essential if you're serious about making nice baked goods, is a really good, high quality pure vanilla extract. If it comes from Job Lot, the Christmas Tree Shops, or Walmart, or it's in a big plastic bottle or labeled Imitation, it's crap. I typically buy the Nielsen-Massey Madagascar Bourbon Pure Vanilla Extract. You can get it at Williams sonoma, sometimes find it at their outlet store if there's one near you, or once in a while I score it at TJ Maxx or Marshalls as well.
One other thing I love...my Pampered Chef large Batter Bowl. Whenever I bake, I always mix my dry ingredients in the batter bowl. I love that it has a spout and makes pouring things into my big Kitchen Aid Mixer so much easier. It's also got a handy cover, although I've never done it, I believe it can be put in the oven. It's also got measurements on the side of the bowl, which is great when I'm making pudding etc.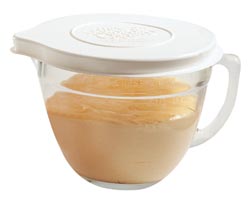 Some other good gift ideas...
personalized recipe cards-- you could probably find some cute ones of etsy.com. When people ask me for a recipe, i love to write it out on a personal recipe card so they remember who it's from.
good measuring cups and spoons-- when I started to really get into decorating and selling cookies, I used to go on numerous baking message boards (please refrain from calling me a big dork). One interesting this that was always up for discussion, was how someone can take the same recipe and have different results. People would always suggest using measuring spoons from Williams Sonoma or All-Clad. They were hands down the most recommended brands. You would even see recipes that would list the measurements as WS measuring spoons. They're rated some of the most accurate measurements.
good spatulas. I always like having a couple on hand. I have two large spatulas and love the smaller ones to scrape off attachments from my Kitchen Aid, or small cans. A couple years ago my sister got me the cutest gift. These spatulas from Williams Sonoma. She also had them personalized to read Holly's Kitchen at the end. I use them almost daily!
Happy shopping!