It's Wednesday..hump day...and one more day closer to the weekend! But..more importantly..it's What I'm Loving Wednesdays with
www.littledaisymay.blogspot.com
!
So..on this lovely Wednesday what exactly am I loving? This Wednesday it's spring and summer fashion! I'm already stocking up on stuff for the warm weather!
Jack Rogers has come out with their signature sandals now in a plastic jelly like shoe...I'm not sure about the bright colors..hell, I wasn't sure about the leather pair I bought for Mexico a couple months ago..but slowly they grew on me and were a great addition to a plain little sundress...so this material might be a little more appropriate if you're a beach go-er. Because I'm not girly enough to pull off a hot pink sandal..I think I'm partial to the black. As my friend told me..if Jackie O wore them..then they're good to own!
I'm also really thinking I need a nice pair of white trousers for summer. I feel like I'm messy and can picture myself sitting on something, wiping my dirty hand on my thigh or spilling dinner into my lap..so white pants might not be a wise option for a dirty gal like me...but when I see a lady in a nice summery shirt with crisp white pants..it screams summer to me and I love the look.
Ann Taylor Loft
Ann Taylor
White House Black Market
I'm also loving belted dressed right now. I love a great tailored dress..there's nothing better than a great, tailored, belted dress to show off your figure. I'm tall and a nice fitting belt gives me the waist I need and I always feel like a million bucks in a tailored dress with a belt!
I have a couple weddings this summer and love this dress from White House Black Market..my go to store for dresses for weddings!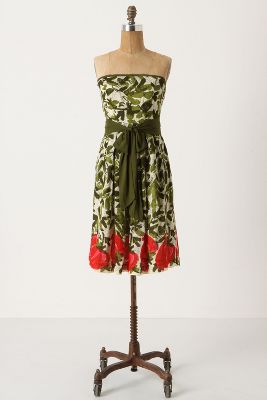 If you need a little more color...dress by Anthropolgie
something a little more summer work appropriate..belted Tahari dress available at Nordstroms
and what a surprise...today's work outfit...my new dress that I scored at the Ann Taylor outlet! Just need to pair it up with a black cardigan and off to work! Thanks to Mr. Allan I didn't need the bathroom mirror to take a picture this morning :)
of course with great summer dresses and shoes..no matter what the occasion..you need a nice new pedicure. One color I'm wearing and loving right now...Damsel in a Dress by Essie!
If you didn't get into the black and very dark polishes..this deep purple gives you that dark polish feel but with a hint of purple...I bought mine at Target! Still very excited over the fact that my local Target sells Essie!!