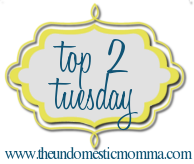 It's Tuesday...hey, one more day closer to Friday, but it also means it's Top 2 Tuesday with
the Undomestic Momma!
This week...the top 2 things I collect...I collect a lot of things...like clothes and shoes..some other not fun stuff like suits for work..blah!
But..I'm going to do some recent stuff I'm into...since I'm a non pack rat and anti-knick knack lady...I hate clutter..so there aren't too many collections of things at my house!
1. Beauty Products
I'll admit it..I'm a Sephora-whore. I could go in that store every week and drop $200. If there's a new product, something everyone's talking about, something that was featured the best of whatever magazine..I need it! This is my make up holder...I wish the collection stopped at makeup, but it extends to face washes, moisturizers, serums, eye creams etc...So, if I'm feeling down about myself, maybe I'm feeling chubby for not having a good week at the gym, or just blah and some clothes shopping won't do the trick...I can ALWAYS find something beauty product related that will!
2. Magazines
I'm not sure if I can even list off the top of my head all the magazines I subscribe to...it's a lot..but I'll give it a shot. It goes a little something like...Shape, Fitness, Health, Cooking Light, Everyday Food, Whole Body and Soul, Self, Glamour, Marie Claire, Clean Eating, Eating Well...I'm sure there's some I'm forgetting because I tried to scale back this year by dropping Elle, Everyday with Rachel Ray, and one other. I love magazines. I'm weird about them too...I need to be the person who does the initial flip through of my magazine..I can't stand it when I get a nice, new magazine in the mail and someone grabs it and does the first flip through...it ruins it for me! But..my rationalization...they're $4 at the grocery store...if I subscribe, I save money! I am good about only keeping the cooking magazines and passing the others onto friends. I'm also good about concealing my little magazine habit...baskets under the coffee table hide them quite nicely, and I've held off all the years on subscribing to my true magazine loves...US, People, and all the other gossip weekly rags...since the weekly subscriptions are expensive! (and I'd have no room for Mr. Allan in the living room if I got all those magazines as well!