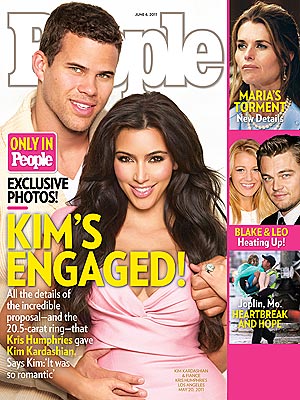 and engaged she is..with a 20.5 karat ring...you can see the rock and a half on her hand!
From People magazine...It was a dream come true for Kim Kardashian when she walked into her Beverly Hills home May 18. Her boyfriend of six months, New Jersey Nets forward Kris Humphries, was waiting in her bedroom on bended knee with four words written in red rose petals: "WILL YOU MARRY ME?"
"I didn't expect this at all," Kardashian, 30, tells PEOPLE in an exclusive interview (out Friday) of the romantic, surprise proposal. "I was in such shock. I never thought it would happen at home, and I never thought now."
Humphries popped the question with a custom-designed, 20.5-carat Lorraine Schwartz diamond sparkler. "I just knew I wanted it to be big," says Humphries, 26, who, with the help of Kardashian's mom Kris Jenner, planned an intimate family celebration later that evening.