I'm still thinking about Thanksgiving. It's looming in the wings. I need to get my butt to Whole Foods and order a turkey and test run some recipes to make sure I have my sh*t together on this blessed holiday of eating and gluttony.
Last weekend when I had a husband in the same state as me, I made a quick side dish...mostly I wanted to try this, then eat it the next day reheated and see if it was just as good. That way, I can make it Wednesday and not on Thanksgiving to save myself time. I know, I'm one wicked smart girl.
Here's a picture of Honey Glazed Carrots. Another recipe off of
http://www.allrecipes.com/
. I've really been digging this site for a couple different reasons. 1) I love the reviews and where people can tell you they went wrong, modified something etc. 2) there's so many recipes on here, it can be overwhelming but also a gold mine of stuff.
I'm a bad blogger and don't have a picture of what I actually made. But, here's a user's pic from allrecipes.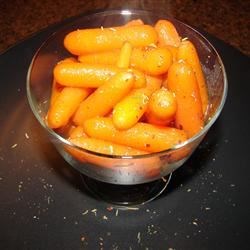 I can tell you that I do not use baby carrots when I roast veggies or make side dishes. There's just something about peeling a carrot and slicing it that I enjoy and I think you get a much more sophisticated looking dish. But, I wanted you to get a gist of what the recipe is about.
This recipe is easy, delicious and just adds a little spin on carrots. I like to try and keep it a little healthier...but this recipe does have some butter and honey, but I thought it would be healthier than a casserole and cream of whatever side dish.
Honey Glazed Carrots
(my alterations are *)
from allrecipes.com
2 tablespoons vegetable oil* (I used 1 tbsp of extra virgin olive oil)
1 pound baby carrots* ( I used 2 lbs of regular sized carrots)
1/2 onion, chopped
2 teaspoons Worcestershire sauce
1 teaspoon dried oregano
1 teaspoon monosodium glutamate (MSG) * (um..yeah I left this out..who the hell adds MSG to vegetable dishes????)
2 teaspoons garlic powder
salt and pepper to taste
3 tablespoons honey
3 tablespoons butter, softened
Directions
Preheat oven to 325 degrees F (165 degrees C). Lightly grease the bottom of a 9x13 inch baking dish. *(I took this to mean...put the oil in your baking dish)
Toss carrots with onion, and add Worcestershire sauce, oregano, monosodium glutamate, garlic powder, salt and pepper.
Bake for 45 minutes, or until tender. Turn oven off and add honey and butter, mixing thoroughly. Place dish back in the warm oven for a few minutes. Serve immediately.
Minus the crazy MSG..this was simple, tangy recipe for a veggie side dish. Best of all...it tasted great reheated the next day.
I know, nothing all that fancy and out there, but I need me some carrots next to the green bean casserole!