It's getting cold here in New England. Even though we had some record warm temps last weekend, the weather has taken a turn! Last night I was huddled in a sweater as I met some lovely ladies for dinner. Once I got home, I jumped under the down comforter in our room with 3 little cats who had cold noses and ears! One thing I noticed this week...my poor skin feels so dry with the colder temps. So, this installment of What I'm Loving Wednesday is dedicated to all the things I love to beat the cold and dry weather!
First up...for my dry hands I love this stuff by Crabtree and Evelyn.
It moisturizers so well and I find that under my wedding rings, the skin on ring finger always gets so dry...this fixes it!
My hair has taken a hit..probably because I blow dry it everyday and straighten it. I wish I could get away with not washing it everyday, but if I goto the gym and get in a good sweaty workout..there's no way around not showering and washing my hair. The result..some dry and damaged locks. There are two products I love..one is a hair shine and the other a hair mask.
First up..John Frieda hair glaze. They make it specifically for brunettes, red heads, or blondes, but there's also this clear shine one as well. After I shampoo and condition, I plop this on in the shower. It sits on your hair for 3 minutes and leaves it silky and smooth with tons of shine.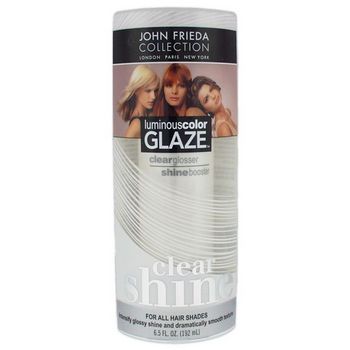 I also love this Jasmin and Henna Fluff Ease Hair Mask from LUSH.
It's a 20 minute hair mask. You rub it into your dry hair and let it sit. I usually do it right before I hop in the shower, so I can easily rinse it out. I love the smell and it leaves my hair super soft afterwards. If I had the extra 20 minutes every morning, I'd probably use it everyday...but I'm a slow poke in the mornings and always running late!
Also by LUSH...their Oatifix face mask. If you have a Lush store near you...their face masks are amazing. They're all about $6.95. You keep them in the refrigerator and have an instant cool face mask at your disposal at home. The Oatifix one smells like a big cookie. I left it out for a few minutes and them slathered it all over my poor dry face. It smelled so good I kind of wanted to taste it! ...but I held off. It left my skin super soft and my dry nose thanked me for it!
One other thing I love to beat the dry skin blues..this Fresh Brown Sugar Face Scrub. It's a little splurge I love to indulge in. I've tried tons of face scrubs since I tend to have a super super dry nose especially in the colder months. Nothing beats this one!